4 cats is not enough!
After getting Lucas, Lucien was a happy boy.  He's older though and easily amused, and worn out. I forgot what it was like having a kitten in the house. Lucas was a year when we got him. He looked full grown so I never fully equated him to a "kitten". OH but he has the attitude and energy of one! Fatty Lucien chooses not to keep up. After almost a year, we decided perhaps we should get him a playmate. A cat close to his age. To be honest, I was craving another calico too! With cats, you can't just shop though. You can't help who you fall in love with!
Starting late summer we started browsing for a kitty. It was more planned that the usual PetSmart visits with time spent hanging out at the adoption center. I saw a boy on Facebook posted by the local Humane Society. He was snatched up quick! Moving on….
I planned to take the month of October off for mouth surgery. Steve and I figured that would be the best time to get a new family member. I'd be home, and the new addition would hopefully distract me from the discomfort of having several teeth yanked out. We thought it would be easiest to once again start back at PetSmart. I swear, we just meant to browse!
Meet 16 month old Lily (Dracena) She was brought to PetSmart via Life Savers Animal Rescue in Polson, MT. This time around, PetSmart had me call the shelter to interview. The lady seemed hesitant and repeatedly said "Dracena" was quirky. She was shy as well. She was rescued from a rabbit hutch. We just had to bring her home! I convinced her she needed us and it was finalized. Lily was ours! Here is her picture from PetSmart.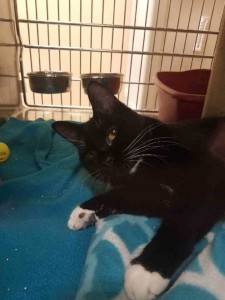 For the first two days she stayed behind the toilet in our upstairs bathroom. She came out far enough to spot the stairs and down she flew. It took her about two months before she'd willingly come upstairs again. Then she'd only follow Lucas.  Now I can report that she is a total ball of energy. If there is a ruckus downstairs, she is the cause of it. If you hear a heard of elephants, it's her and her big brother Lucas. They are two peas in a pod. I'd swear there were REAL brother and sister. They are never far from each other and play for hours, or until he poops out. Then he'll retreat to Lucien for a bath and nap.
As for her quirks. She wants attention so bad, but unless it's her terms, or a certain part of the house, we've dubbed her safe spot, she will run from you like you're Satan. If she lets you close see purrs and drools like mad. She flops around like a fish from side to side making sure every inch is  loved on. She digs Steve's (only his) socks out and prances with one in her mouth while making a weird sound. When Steve gets up to go to the bathroom in the middle of the night, like a ninja, she quietly appears on the bed, in the dark, to get loving. At no other time will she come into our room, much less jump on the bed.
Mimi still hates her, and Lucas. Elvira and Lucien tolerate her. Aside from Mimi's hisses, everything is working out as dreamed. With cats, that never happens!