Posh Elvira
My skinny girl Elvira recently had a check up. Doc says she's just fine. I still worry. She's getting smaller and smaller. You can't tell in this picture, but the basket is pretty small. The pumpkin basket inside, from Joann's, is not quite the size of a dinner plate.
Just like cats do, she fits so she sits.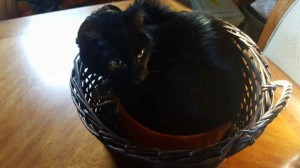 She claims she never gets attention so while I'm trying to get a basket of Perfectly Posh treats, she sits.
Save
Save
« Armarkat Cat Tree from Chewy.com
Pet Smart Black Friday Deals »
Write a comment
You must be logged in to post a comment.